We are a thriving pack-away pre-school that caters for young children in Long Wittenham and surrounding villages. We offer children an opportunity to learn through play in a stimulating and nurturing environment.
We first opened in 1970 and operate out of the village hall.  The pre-school can accommodate a maximum of 24 children per session. Each child has a key-worker to ensure that they get the individual attention and the support they need. Our ratios are 1 adult to 4 children (under 3 years old) and 1 adult to 8 children (3-5 years old).
As a packaway preschool we are constantly reflecting and reviewing the learning environment provided for the children. Every day is set up to meet children's interests as well as aiding their development and fulfilling their next steps on their learning journey. This dynamic environment allows for the children to have a say in how it is set up and where the activities will be.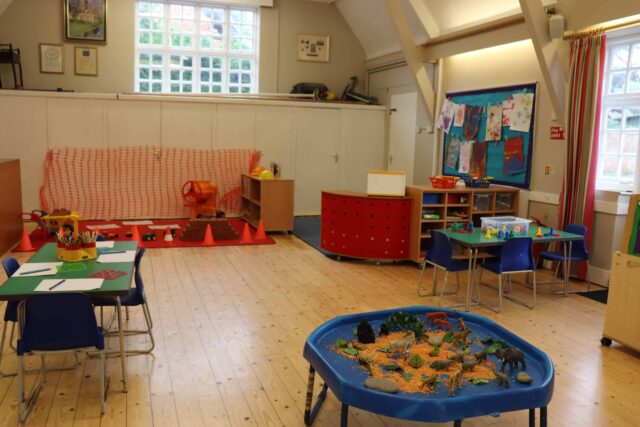 In the most recent OFSTED Inspection (Sep 2017) we retained our 'Good' status. Furthermore, we received and 'Outstanding' in the category of 'Personal development, behaviour and welfare'.
"Staff care for children in an exceptional way. Children form excellent close relationships with staff and thrive in a warm and caring environment. Strong emotional attachments have a positive effect on the way children develop their independence."
Long Wittenham Pre-School is a registered charity and is managed by a small committee made up of volunteers who are parents and carers. Find out more about the committee here.
Long Wittenham Pre-School is a member of the Early Years Alliance which is a charitable national voluntary organisation to promote the development and education of children under school age.
We follow the Early Years Foundation Stage (EYFS) Statutory Framework and provide a safe and nurturing environment for your child, giving  them the opportunity to:
learn through play in a happy, secure and stimulating environment
learn to mix with and enjoy the company of other children
develop at their own pace
grow in self-confidence by participating in a wide range of activities
gain independence by being apart from their parents/carers for a time and meeting others from outside the family.